Who has Two Thumbs and loves taking photos...
"I'm not sure what to do with my hands," and I'm never really sure what to say in these things.
All I know is that I've always loved stories, from books to TV shows and movies. I love meeting the unique characters and following them through their ups and downs. 
No wonder I love weddings. Each wedding is a story like no other, and not only do I get to experience it, I get to capture it and share it with others.
I love superheroes (Wolverine all the way!), sports (football- the American kind), and Skittles (red is the best) and lots of other things that begin with "S". Besides talking about photography, bring up any of those three, and we'll instantly be best friends.
I've been married for 13 years now to my saint of a wife that puts up with me (a 36-year-old kid) and our crew of kids and my 100-pound lap dog. 
I'm a pretty laid back guy, but I also like to be a bit goofy. Weddings are supposed to be a party, and I try to make them as fun as possible for everyone, including myself!
"Bryan is Awesome! I was a little bit of an "excited" Bride lol -Bryan always calmed me and assured me that all was going to be okay… and it was! We had so much fun! The pictures are beautiful! He captured every little detail and moment for us! The entire day was so exciting and fast paced… We looked at the photos and it reminded us of small things that we had forgotten about, so glad that we have the pictures to remind us!"
Wedding Photography with a Purpose
My number one goal is to make your wedding wonderful, but I have found another purpose for what I do. I've been lucky to work with a lot of organizations over the years, and I've found two that really connected with my heart: Sheep Dog Impact Assistance in Northwest Arkansas and Kageno Worldwide in Rwanda.
The best part is you can help these organizations, too! For every wedding I shoot, I will make a donation to one of these organizations and you get to choose! You'll get the amazing photos, wedding experience, and help someone else at the same time!
Click below to reach out and help make a difference!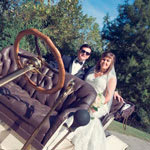 "I am so happy that I chose Bryan to do both our engagement pictures along with our big day! He wasn't afraid to get dirty (literally) to capture some of our best shots! He was very professional and yet laid back. Bryan was so easy to work with! I'd recommend him to everyone!"